Michael Simmrin - Lead Attorney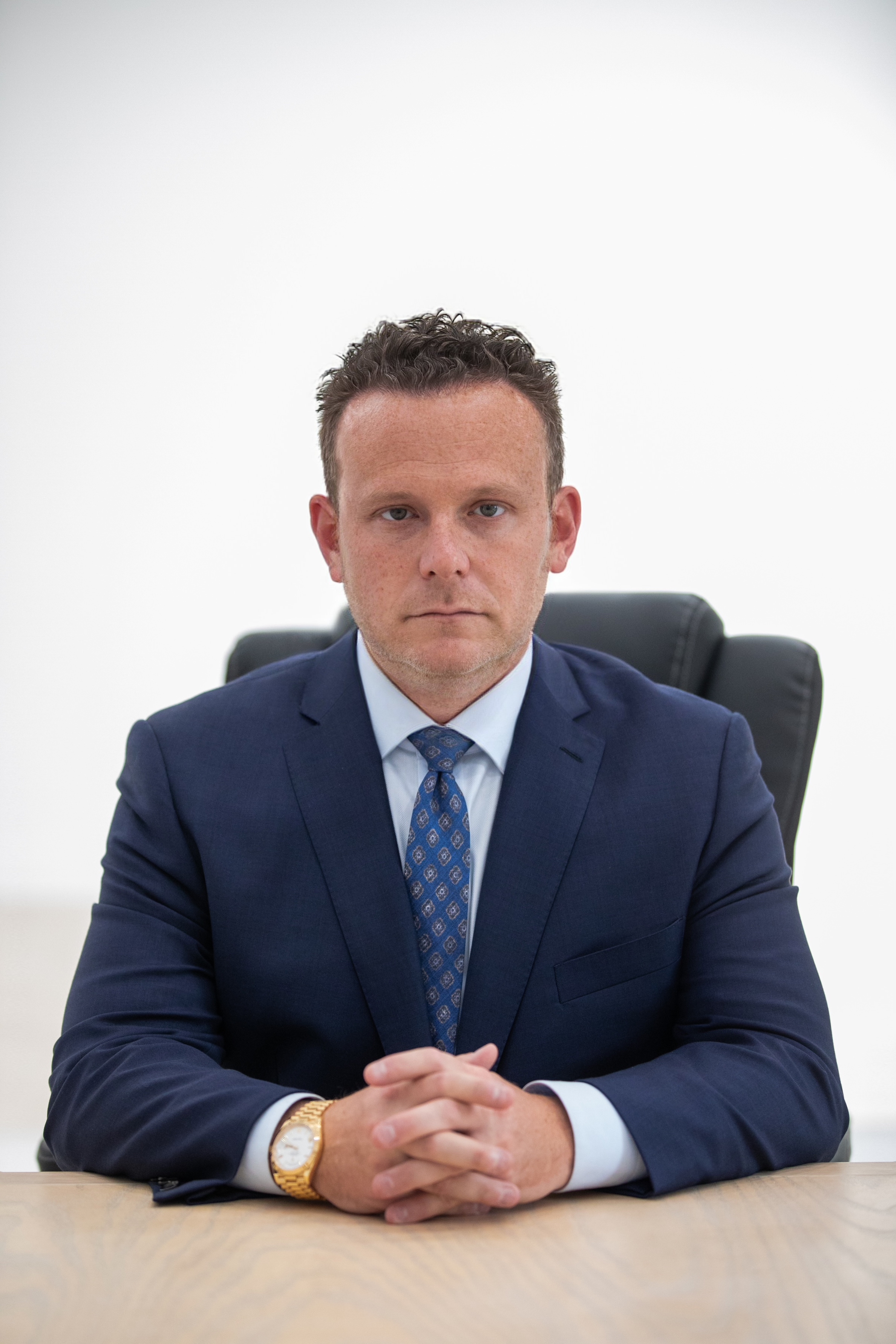 Los Angeles Criminal Defense Attorney Michael Simmrin has been recognized for his advanced skill set, legal knowledge, professional abilities, devotion to ethical practices. Considered as one of the top criminal defense lawyers in Los Angeles, Mr. Simmrin employs the most effective approaches and methods that put his clients in the best position to obtain favorable results. He creatively, aggressively, and successfully represents clients in a wide range of criminal matters, ranging from driving under the influence (DUI defense) to first-degree murder. Over the years, Mr. Simmrin has had extraordinary success in some extremely difficult cases.
Simply put, Mr. Simmrin is a brilliant trial lawyer with deep experience. He is passionate about his clients' rights and battles for every one of them as if he was representing a family member. He has the experience and tenacity to conduct thorough and independent investigations, scrutinize the prosecution's case, and negotiate with the DA on behalf of his clients. His persuasive character and proactive approach to criminal defense have played a huge role in his success. Mr. Simmrin has the aptitude to convince the jury to acquit his clients.
Mr. Simmrin's interest in criminal defense began significantly earlier in his life when he was just a young schoolboy. He remembers seeing a classmate being in trouble for not standing in line. The child was in fear, and Mr. Simmrin really wanted to intervene. He still carries that sense of justice and a desire to advocate for others. Pursuing a career in criminal defense was a natural, lifelong dream.
The criminal system is geared towards locking up people. The government has the power to quickly destroy the lives of the accused and their loved ones, without giving it much of a thought. And a criminal record will be subject to scrutiny in areas of employment, housing, education, and finance/loans. Mr. Simmrin believes that every person has rights that need to be defended. This motivates him to get up every morning and make a difference in the lives of his clients. As an ethical and loyal criminal attorney, Mr. Simmrin pushes on long after others would have given up.
Mr. Simmrin grew up and schooled in Los Angeles. He attended the University of Miami School of Law and graduated with honors. He was selected to membership in the Order of the Barrister for his excellence in oral advocacy. While in law school, Mr. Simmrin was a member of the Moot Court Board and participated nationally in the mock trial team. He got his first taste of "legal work" when he was hired as an intern at the Miami-Dade Public Defender's office, where he helped investigate and try real cases.
Upon graduation, Michael worked at the Los Angeles Public Defender's office and was later appointed as an Alternate Public Defender. He honed his skills, rose through the ranks quickly, and conducted hundreds of jury trials from misdemeanors to complex felonies. Michael has developed excellent relationships with decision-makers and has earned a reputation as a victor. He is a relentless fighter who knows how to get the best possible results for his clients.
Mr. Simmrin runs an incredibly successful law firm, The Los Angeles Criminal Defense Attorney, focusing on defending individuals and corporations accused of violating local, state, and federal law. He offers a high level of personalized legal representation for each client.
If you're looking for an attorney who is compassionate and committed to solving your legal problems, Michael Simmrin is the one you're looking for.
Why Choose Us?
Because your reputation and freedom are at stake, we handle all cases carefully and aggressively. Here are 9 reasons why you should choose us:
We Have The Requisite Experience - Over the many years that we have practiced criminal law and interacted with our clients, we have built a rock-solid foundation of legal knowledge and courtroom skill that can only be gleaned from years of working in this environment.


We Know How to Build a Successful Legal Defense - The two secrets to successfully defending a client against criminal charges is a complex combination of book smarts and social intelligence. All our attorneys have both: they are graduates of the finest law schools in the nation but also know all the ins and outs of the local courts located in our community.


We Are Experts In Criminal Law – Criminal law is a wide practice area in American jurisprudence. It may appear as if a firm will be most effective if it has a laser-like focus on one area of the law, but that is not necessarily true in criminal cases. That is because any given case may carry any number of charges, and the two most important skills are knowing how to navigate the courtroom and effectively delegating relative expertise amongst partners within the law firm itself. Once you have retained our services, any number of our attorneys may end up collaborating on your particular case.


We Have Successfully Secured Acquittals for Many of Our Clients – We have been in this sector for long enough to marshal our considerable resources and determine when it is most effective to strike. Make no mistake, an acquittal is always a major blow to the district attorney, though we feel this is a crucial part of maintaining the delicate balance within our community.


We Have Successfully Reached Various Plea Bargains With the District Attorney – Not every case will end in an acquittal. That is just the brutal truth. However, a plea bargain is frequently seen as an effective compromise between the district attorney and the defendant. Essentially, this compromise bypasses the entire costly and time-intensive trial process for the defendant to work out "a deal" with the district attorney that the judge must sign off on. All the plea bargains that were developed through our diligent hard work were the best possible outcomes for those clients under those circumstances. Furthermore, we saved the community the expense of an extensive trial.


We Are Always Available to Help You – A law firm is more than just its attorneys; there is an entire infrastructure that is essential to helping us secure these victories. There are assistants, paralegals, researchers, and various support staff, most of whom will have considerable interactions with you, our clients. However, the attorneys we have on staff will also be available to you at all times; this is a stressful period in your life, you do not have to go at it alone. It is best to think of all of us as one team with one goal: beating your case. It is this intensity of focus that allows us to function at the highest caliber.


We Can Develop a Customized Legal Strategy – No two cases are identical. Consequently, we have had to learn how to properly interface with our clients over the years to get the most accurate story possible. Remember, we are all a team, and teams communicate. It is via this communication that you can paint us the most accurate picture of what happened in your case. We then take these circumstances and combine them with our substantial legal knowledge and ability to execute these concepts in the courtroom.


We Will Fight For You – Having to go through a criminal case is not unlike having to experience a battle; you never thought this would happen to you and yet, here you are. Much like in a battle, the one thing you definitely want is troops on your side; you should consider the attorneys and support staff at The Los Angeles Criminal Defense Attorney as the troops that will go into battle for you.


We Have an Impeccable Reputation – We are firmly entrenched in the wider community. This means that our word is our bond when interacting with the various members of this community. Our reputation is sacrosanct and we will do everything in our power to maintain its impeccable nature. A strong reputation is like a form of currency; it has a power that extends beyond itself and can successfully be leveraged into a strong track record of winning cases and helping the community.
10 Important Questions to Ask Your Potential Criminal Defense Attorney
In addition to the above reasons, it is also important that you determine some fundamentals about how the practice works by asking the following questions:
How much and what kind of experience do you have? - Remember that both of these are equally important in choosing your attorney, as it will determine how fit they are to be making the actual legal arguments in court.


Can we have a consultation in person? - Doing things over the phone may be convenient, but ultimately you must develop a personal relationship with these people that includes meeting face-to-face.


Which lawyer will be directly overseeing my court case? - Remember that multiple parties may be assigned to the prosecutor's team; make sure that your firm will match this allocation of valuable resources and have one senior attorney acting as a leader to a number of other attorneys with various specialties.


What are the lawyer's AVVO reviews? - Once you know the name of this lawyer, you can do some investigating on your own via the AVVO digital marketplace for legal services. Lawyers will have profiles on this website that will include reviews submitted by clients, any disciplinary actions they may have faced, endorsements from their colleagues, and any publications submitted by the lawyer in question.


Can you give me an overall assessment of my case? - There are so many factors at play in a criminal trial, that you should get an overarching legal evaluation that puts all these competing circumstances into perspective.


Can you give me a specific assessment of my case? - Once the "big picture" elements have been organized, it is possible to start addressing some of the minutiae. This includes how you should plead (guilty, not guilty, no contest, or the ultra-rare Alford Plea) and your responses to predictions of what the prosecution is going to do.


Why are you accepting my case? - This question could be considered a continuation of questions 5) and 6) in that you are trying to determine how the law firm came to the conclusion that you have a solid case. Remember that these firms can see thousands of cases come across their desks in a given period of time, and, unlike the Public Defender's office, they have the ability to say no to most of these cases.


Will my lawyer be easily accessible to me? - There is a reason why they call it "a team" in the legal literature: all members of this team must be communicating effectively in order to do the best work possible.


What areas of the law are your specialties? - Because the law has so many various practice areas and ultra-obscure applications, it is important to choose a lawyer whose experience profile will benefit your legal strategy. In some cases, it is preferable to hire a lawyer who has more courtroom experience rather than specific expertise in one area of the law.


How is case management executed at your law firm? - Remember that lawyers have an entire network of supporting players who do a lot of the heavy lifting in terms of case organization, research, administration, and overall case management. Understanding how these paralegals and administrative workers operate will be crucial in determining if a firm is the best fit for your case. Remember that a firm is only as effective as its weakest member.
Granted, this is a lot of information to cover, but remember that choosing the right law firm is a momentous decision that may have far-reaching implications for your life and future.
What Does Our Criminal Defense Firm Mean to the Wider Community?
The criminal justice system is complex, overwhelming, and intimidating to all but its most hardened members. This means that the average layperson, even if they are intelligent and tough, will find the day-to-day function of this system to be puzzling and potentially alienating. Enter the fine folks at The Los Angeles Criminal Defense Attorney; they can navigate these stormy winters while having the resources of the big guys but the personal connections of a smaller firm.
A big part of successfully practicing law is creating, developing, and maintaining these various personal connections. These may even extend to the various clerks who work at a specific courthouse; having these connections can make the difference between being an effective lawyer and one who struggles a bit with winning cases.
In other words, aside from the more obvious signs of success that we look for in a firm like liquid capital, experience, education, or a nice office, there are other indicators that may be more subtle and not as conspicuous. This includes the space that our firm occupies in the wider community. In other words, are we widely respected, even in outside legal circles? Because this means that the average local citizen will look at our organization and see the inherent value to the fact that we provide top-notch legal representation that is affordable, accessible, and of the highest caliber.
This provides inherent value to the wider community because it keeps the criminal justice system fair and impartial and we act as a collective foil to the prosecutor's office. Firms like The Los Angeles Criminal Defense Attorney provide an effective balance against unchecked power.
Our Legal Expert vs the Rest
It is so common for law firms to be fully staffed with junior attorneys as well as support workers that just do not have the necessary experience. It takes time and dedication to build this up; there are no shortcuts in law and the knowledge base like the one we collectively have in our office was not made overnight. It took a long time to get it right and we now know we have a winning combination because we have seen it in practice, before the judge, and have won many cases.
Consequently, the staff at The Los Angeles Criminal Defense Attorney is stacked with people and workers who are unmatched in their skill sets. The truly remarkable aspect is that as a collective, we know how and when to collaborate with one another. Even the most intelligent, most educated, and most inquisitive attorney will be incapable of knowing every aspect of the law. In fact, they will not even know most of the law. That means that at some point in time, great minds will have to come together and work to find a solution to some specific problem.
This happens more frequently than you could even imagine. Practicing Criminal Law is comparable to watching how a specific system interacts with the real world. In more familiar terms, it is where "the rubber meets the road". That means that our attorneys know the theoretical side of law and are able to present and counter complex legal arguments as well as thrive in the chaotic and unpredictable environments of the courthouse and jail.
We stand out from our competitors because we thrive in the nexus of where practice meets reality. In other words, we are experts both in the office and in the field, making us formidable trial lawyers.
What Are Your Constitutional Rights in a Criminal Trial?
There are a number of inalienable legal rights available to every defendant. These include fundamental maxims like "innocent until proven guilty" and also consist of a series of actions that the defendant may choose to take or not take. These are meant to optimize the process of criminal convictions and ensure overall fairness. They are:
The right to have adequate legal representation (either an attorney or legal team).
The right to provide testimony (also known as "testifying").
The right to remain silent and to not self-incriminate.
The right to cross-examine any witnesses; this is why the opposing legal teams take turns doing this during the case-in-chief portion of the trial.
The right to have a trial that is "fair and speedy".
The right to be presumed innocent, otherwise known as "innocent until proven guilty".
The right to a trial by a jury of twelve (12) peers, unless the case is one of the few in which the verdict is determined by the judge.
The right to use the legal power of the court to issue subpoenas to compel various witnesses to testify.
Please note that the courts have a power that is wide-reaching and comprehensive. For example, the power to issue subpoenas basically means that the presiding judge has given a legally-binding order that must be followed, otherwise, the person violating it may be charged with California Penal Code Section 166 PC: Violating a Court Order. This is also informally known as a "contempt of court" charge. Any person, including either the prosecution or the defense, may be charged and face the consequences.
Furthermore, in relation to 5), "fair" and "speedy" are subjective terms. This results in a great deal of interpretation of when a criminal trial results in justice, meaning that sometimes when a defendant appeals a verdict or sentence, they are basing said appeal on the violation of these two precepts.
What Are the Steps in a Criminal Trial?
The arraignment - This is the first step in a criminal case and consists of an appearance before a criminal circuit judge immediately following the defendant's arrest. Remember, that under the legal philosophy of the United States, as a criminal defendant you are always considered "innocent until proven guilty". The actual arraignment consists of reading aloud the charges that the defendant is facing before the judge. The process also consists of appointing an attorney (a public defender) if the defendant is unable to afford one and the defendant entering a plea of "guilty, not guilty, or no contest".


Preliminary hearing - This is the second step in a criminal trial and consists of the prosecutor's office basically making a preliminary version of the case apparent to the judge and arguing that there is a certain level of reasonable suspicion that the defendant committed a crime. This is also known as a "bill of information" and essentially argues for the presence of "probable cause"; this means that the defendant probably committed a crime and that the prosecutor's office would be using the court proceedings to prove this argument.


Second (2nd) arraignment - This second (2nd) arraignment is essentially the same as the first and occurs fourteen (14) days after this initial appearance in court. However, it is a response to the determination made in the preliminary hearing that probable cause was present and actionable and that the defendant is "held to answer" for their alleged crimes (meaning that they are kept in custody in order to answer to these charges).


Pre-trial motions - The legal definition of a "motion" is any formal, written request to the presiding judge that they make a binding ruling on some kind of legal matter. There may be voluminous amounts of these motions throughout a trial, though most come up during the pre-trial period. This is because this period of time is specifically used to resolve these various matters.


Trial - The verdict ("guilty or not guilty") in the vast majority of criminal cases is deliberated on and determined by a jury. This means that a panel of twelve (12) of the defendant's peers are chosen by the defense and prosecution. The burden of proof lies with the prosecution; this means that they must prove to the jury "beyond a reasonable doubt" that the defendant is guilty of the charges brought against them. In other words, the prosecution must prove the case while the defense must disprove the prosecution's claims.
Criminal Practice Areas
Drug Crimes
Drug crimes are an exceptionally common type of infraction. As of now, aside from pharmaceuticals, the only "drug' that is legal in California, both medicinally and recreationally, is marijuana. This contradicts the federal law known as the Controlled Substances Act; that means that even if you follow every single usage, production, and selling law in California, you still run the risk of being busted by the Drug Enforcement Agency (DEA).
These various drug crimes really run the gamut from simple misdemeanor possession of a controlled substance (meaning it's for personal, recreational use) to the serious felony known as drug trafficking (meaning it's being widely distributed and sold).
Currently, the criminal justice system applies a combination of custodial punishments and mandatory treatment programs. Our attorneys know how to get our clients into these Prop 36 or PC 1000 programs that will help them avoid incarceration.
Domestic Violence
Domestic Violence is a group of violent crimes that all have one crucial factor in common: they are committed against an intimate partner as defined under California law. This intimate partner is usually a spouse, former spouse, domestic partner, immediate family member, parent of a joint child, or anyone you have been intimate with (like a boyfriend or girlfriend).
Designating a crime as a crime of domestic violence is essentially an enhancement on the sentences that are handed down. Crimes of domestic violence are always punished more harshly because the general consensus is that they are much more damaging to our overall social fabric. The imposition of these sentences includes possible incarceration, issuance of a protective order against you, traumatic loss of custody rights to your own children, and catastrophic damage to your overall reputation.
This is considered a serious crime and the district attorney will likely show you no mercy.
Sex Crimes
In terms of permanently destroying your reputation, sex crimes are by far the most taboo and carry the harshest unofficial punishments (such as banishment from society, loss of social status, loss of livelihood, etc). The official punishments, handed down by the judge, are also very harsh. If the case in question is serious enough, you may be compelled to undergo lifelong registration; you will be forever haunted by a false allegation.
The most common sex crimes, all of which we have extensive experience defending against, are statutory rape, rape, sexual battery, child sex abuse (production or usage of child porn), indecent exposure or lewd conduct in public, laws against prostitution, and failure to complete your sex offender registration. Most of these are very serious crimes, and you will be facing serious consequences unless you retain a firm that can help you beat these charges.
Driving Under the Influence (DUI)
Driving under the influence (DUI) is an exceptionally common crime. I think most everyone can relate to the feeling of being out with friends or family and having a few cocktails, effectively negating our ability to lawfully and safely drive back home. Let's be real: calling a cab or an Uber and then having to come back the next morning may not seem like it's worth it. But the reality is that it is just not worth the risk; even if you are not guilty of the crime of DUI, the district attorney and police can really turn your life upside down.
In fact, the state of California has some of the strictest laws on the books and that a DUI conviction may end in you losing your license, car, and even livelihood. That means that an effective defense attorney, one who has a wide range of experience, can be crucial in softening the blow of a DUI conviction.
Most people assume, largely because the Police have maintained this narrative, that breathalyzer tests are flawless machines that are never wrong and always give accurate data. This is just not true; like any other machine, there are serious limitations to its efficacy. These can be further limited by the officer handling the machine and doing so in a way that all but guarantees an inaccurate result.
Violent Crimes
Violent crimes occupy a special place in the criminal justice system. They generally carry the longest sentences and may even result in life imprisonment or the death penalty. Even if you look at it from the perspective of the district attorney as an elected official, nothing looks better to voters than being "tough on violent crime".
Common examples of these types of crimes are murder, attempted murder, armed robbery, assault, battery, kidnapping, and carjacking. Please note that all these crimes carry a significant risk of substantial murder and mayhem. Consequently, the criminal justice system sees itself as protecting the general public from violent offenders when they impose harsh sentences.
California, along with many other states, has imposed Three Strikes Law. Essentially, any violent crime counts as a "strike" against the defendant and starting with "strike two" your sentence immediately doubles. Once you have been convicted of your "strike three" offense, you face a mandatory twenty-five (25) years to life. Because this is a state law, the judge cannot alter or reduce these sentences; they are bound to the law like anyone else.
Find a Criminal Defense Attorney Near Me
Los Angeles Criminal Defense Attorney is deeply committed to serving the community and providing Los Angeles residents with the best possible legal representation. When you are facing criminal charges, this not a time to try to fight it on your own; you need a strong defense team in your corner that will be with you for the long run. Contact us anytime, 24/7 at 310-564-2605 and get a free, no-obligation consultation with one of our expert attorneys! We promise to fight for you with every legal expertise and experience that we have gained over our many years of practice.